日本人の方へ。
以下のMegaリンクからマップをダウンロードしてください。リンクは動画で見れる幻想卿とは 少し違い、最 新版となっております。何箇所か新しく足されているのでごゆっくりお楽しみください。
葉の枯れをふさぐためにはなんだかMODが必要となります。一応damage valueを使い、枯れないようにできるはずなのですがよくできませんでしたw
DOWNLOAD LINK
https://mega.nz/#F!5hU2HCJC!IpwU8ZjpwSALOgLjoZtNlA
マイクラアカウントをお持ちの方へ
幻想郷の全機能を経験したい方はサーバーをお勧めします。シングルプレーとマップデータを利用 するとテレポ ートや色々な細かい機能が不可能となります。マイクラアカウントをお持ちの方はゲーム内からマ ルチプレイの 画面でこちらのリンクを入力ください
mc.yukkuricraft.net
****
グ
ーグルクロームのご利用の方****
クロームのご利用の方はMEGAからダウンロードできない場合もあります。もしダウンロードが 始まらない場 合はFirefoxを使って同じリンクでダウンロードしてください。
サーバービデオを見たことのない方へ
もし三才ブックス様の本、「マインクラフトレベルアップ」でこのサイトに来た方は我がyukk uricra ftのサーバー動画を見ていない方も多いと思います。もしよろしければこちらのyoutubeリン クを見て ください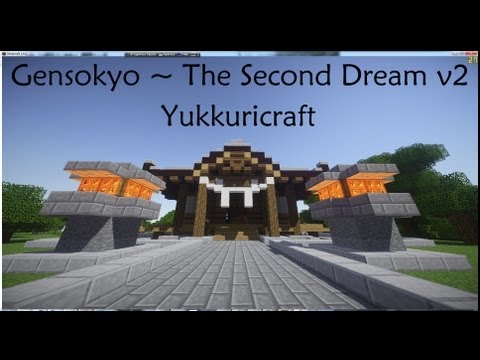 CHROME USERS
- Mega is known to have issues downloading on Chrome. If you are using Chrome and having difficulty downloading, please temporarily use Firefox or some other browser of your choice to download from that link.
UPDATE TO 1.7.10 BEFORE COMPLAINING ABOUT MISSING BLOCKS
3/25/14 edit: I've uploaded Genso v2.1 which contains new builds such as the Shining Needle Castle and several other improvements. Senkai has also been uploaded as well.
Have fun!
Fun points:
- Firespread is now INTERNALLY disabled. No mods required!
- All maps are in creative mode.
- Aside from Makai, all worlds have PROPER spawn points! (I think)(Makai's acting retarded so I couldn't get it to work for whatever reason)
Caveats:
- It seems that grass spread and leaf decay can still not be disabled without client mods.